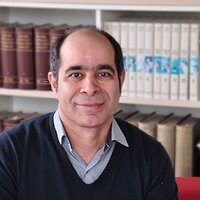 Hossein Najari
Associated
Research Associate of Subproject A04, Collaborative Research Center "Metaphors of Religion" (SFB 1475)
Assistant Professor of Ancient Iranian Languages, Shiraz University (Iran)

Hossein Najari specializes in Ancient Iranian Languages, mostly Avestan, but also, Zoroastrian Religious Studies, Iranian Mythology and History of Iranian Languages and Literature before Islam. He holds a M.A. in Ancient Iranian Languages from Shiraz University, Shiraz-Iran (1999). Hossein Najari was rewarded a Ph.D. in Iranian Studies from EPHE (Section of Religious Sciences)-Sorbonne University, Paris-France, (2008), under the direction of Frantz Grenet & Jean Kellens, with a dissertation titled: "Ard-Yašt de l'Avesta, Texte, traduction, commentaire et glossaire" (Pub. Saarbrucken, 2012). Since 2008, he is Assistant Professor in the Department of Foreign Languages and Linguistics, Faculty of Literature and Humanities at Shiraz University, Iran.
During his fellowship at the Käte Hamburger Kolleg, he works on: "Othering, Otherness, and the Other in the Avestan Texts", at the Center for Religious Studies (CERES) of Ruhr University Bochum.
Education
Ph.D.: Iranian Studies, EPHE (Section of Religions Sciences)-Sorbonne, Paris-France, 2008
M.A.: Ancient Iranian Languages, Shiraz University, Shiraz-Iran, 1999
B.A.: English Translation, Islamic Azad University, Tehran-Iran, 1996